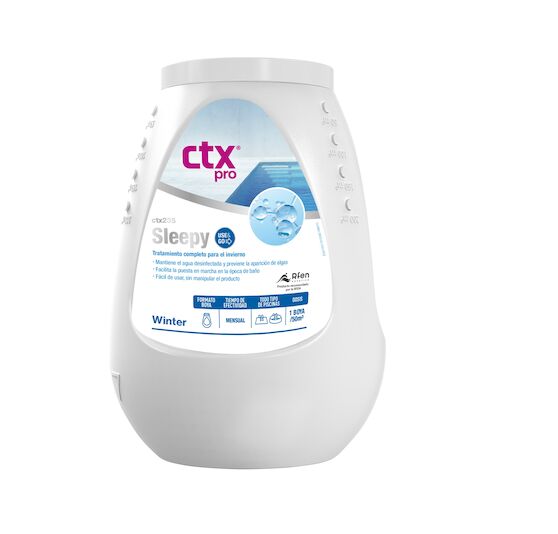 CTX-235 Sleepy
Floating dispenser for complete winter treatment
Prevents the proliferation of algae and bacteria
Easy to use, no need to handle the product
Where to buy
This dispenser takes care of the pool during the winter season. It favors the cleaning, recovery and fine-tuning of
the pool water at the beginning of the bathing season.
Doser containing disinfectant, flocculant and algaecide products for pool maintenance during winter.
| CODE | Description |
| --- | --- |
| 75150 | CTX-235 Sleepy |
Show less
INSTRUCTION FOR USE
Punch the circular marks (on both sides) from 50 m3 to 200 m3 of water depending on the swimming pool volume. Punch a hole in the round marks with a sharp object (for instance a scissors) and you will easily obtain the necessary holes for water to get inside it.
Attention: Don't refill this dispenser. It is for one use only.
DOSAGE
Put the dispenser into the water and let it float. Approximate duration: 4 - 6 weeks.
These doses are the ones suggested and can be modified according to the own characteristics of
every swimming pool, climate, etc.
Show less