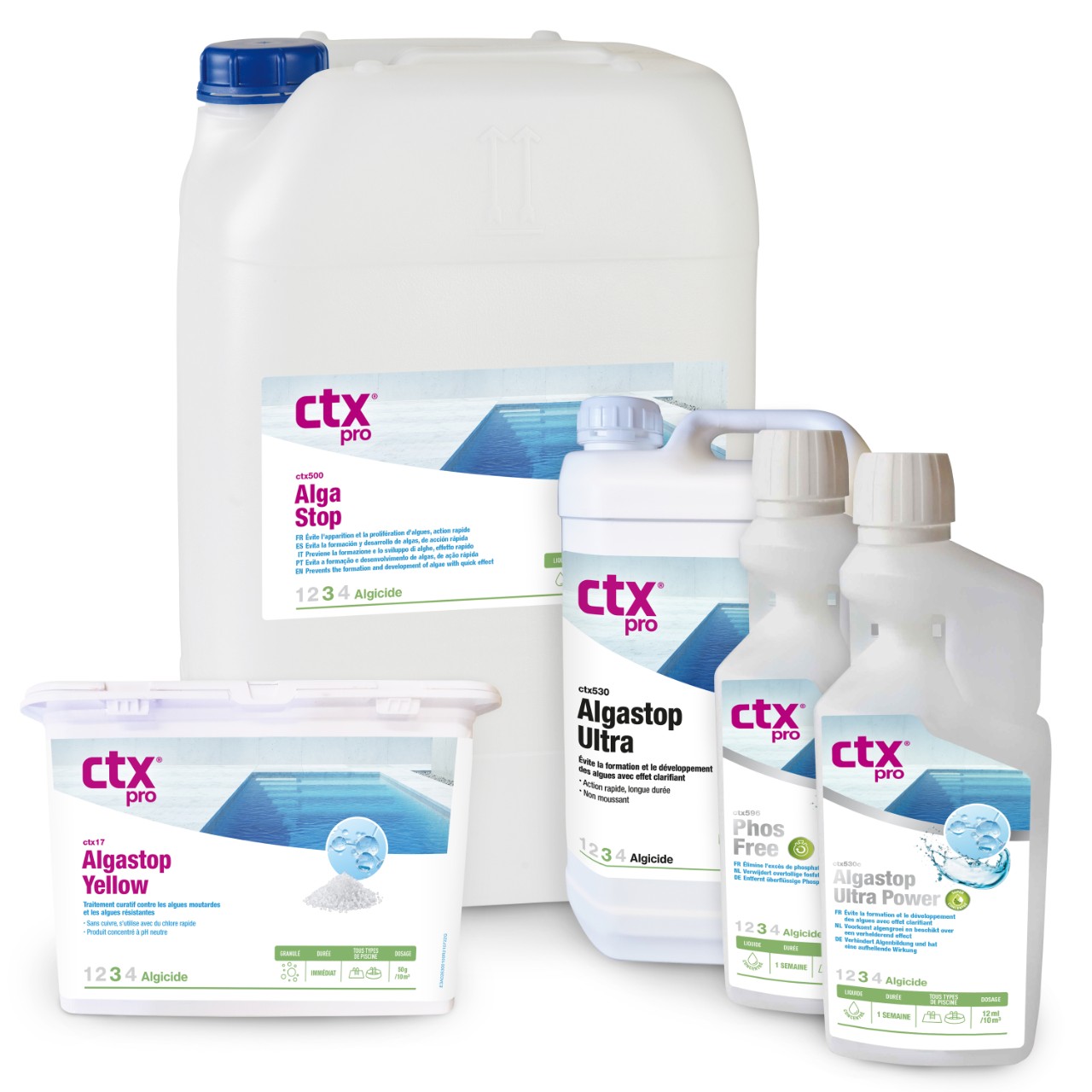 Pool algicides are a necessity to keep your water safe from any algae. Although we may have disinfected our pool previously, algae can appear for a range of different reasons, such as chemical waste, trees or plants around the pool, sudden changes in temperature, rain, etc. All this means that using disinfectants alone is not enough. 
At CTX we offer advice on what anti-algae treatments to use for your pool, how to measure them out, and how to use them. You must be careful though, as excessive use of this product can cause the water to foam. 
We also recommend using a phosphate remover, as phosphates are what algae feed on. If there is no food, then the algae cannot reproduce. For example, the CTX PhosFree is a concentrate product that instantly removes phosphates. If you do not want to use anti-phosphate products, then we recommend using anti-algae products each week. Concentrates are easier to use thanks to their dispensing bottle. 
Algae can cause problems such as: green or brown water, slick water surface, or the deterioration of the pool, which is why it is important to use a really effective product to combat them. 
To combat the appearance of algae in your pool, CTX offers a wide range of solutions. Each algicide has its own technical specifications to certify its characteristics and credentials, as they are all reliable and top quality products. 
CTX PhosFree. Anti-phosphates. This is a great product used to prevent algae from forming as a result of contaminating agents such as garden fertilizers or other chemical waste. It is compatible with all kinds of disinfectants, easy and simple to use, it also helps with salt electrolysis (an effective disinfectant as it converts the salt into sodium hypochlorite by means of a continuous electrical current). 

 
CTX-60 AlgaStop Cristal. This is a shock algicide for pools, a rinse aid, and is powerful against algae, bacteria, and fungi. It can be used in any pool. It can be used whenever any algae appears or when we see that the water is not as clear as it should be. It is a flocculant algicide, as in addition to its anti-algae properties, it also cleans the water and makes it clearer. 

 
CTX-500 AlgaStop. Another comprehensive algicide for pools. It is an algicide, bactericide, and fungicide; three in one. 

 
CTX 530 AlgasTop Ultra. A chlorine free algicide treatment, with an especially effective micro-flocculant power with small algae particles floating on the water's surface. It is compatible with almost every disinfectant and does not foam.

 
Destructor de Algas. This algicide is highly recommended when it comes to destroying any kind of algae: it is like a shock algicide. It removes any kind of algae (green, brown, red, yellow, or black).

 
CTX-500C y 530C AlgaStop concentrates. More power in every drop. 1l format, with a dispenser bottle to accurately measure out the product.
Show more
Show less
Tips and Related Resources