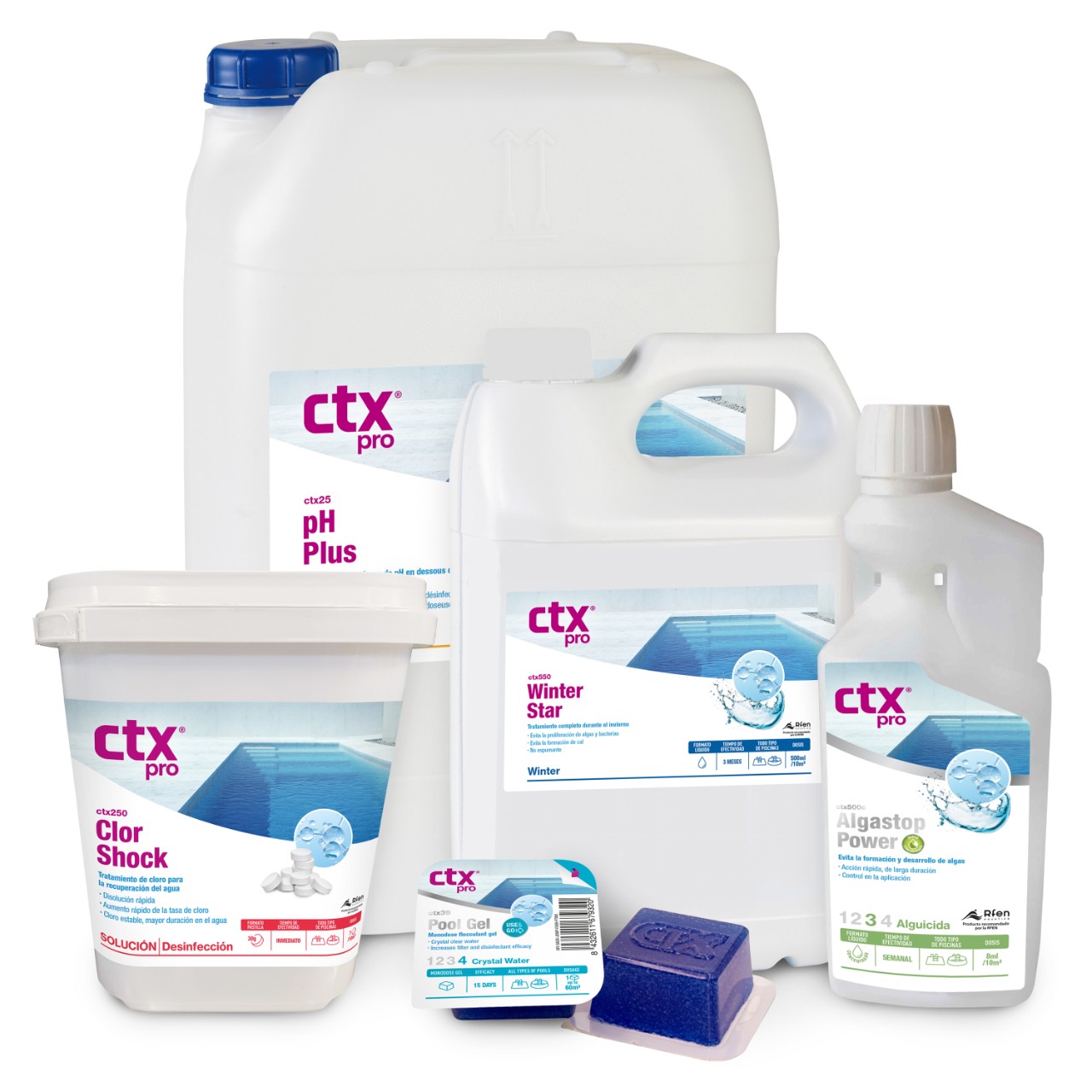 CTX's chemical products for pools are divided up based on the different cleaning stages, initial cleaning, swimming pool season maintenance, specific products for specific issues, and wintering.
A swimming pool needs to be cleaned using the right products, when not in use (wintering), when about to be used, and during the swimming pool season, it always needs to be kept in the best possible condition. 
At CTX we offer the best possible advice for each stage of the year, water conditions, and the preparation and maintenance of your pool. 
CTX Pro has four subproduct ranges, specific to every need: 
Maintenance Range: the four steps for the correct pool maintenance, with healthy water in perfect conditions throughout the swimming pool season: water balance (pH - with CTX pH enhancers and reducers, for both professional and retail use, total alkalinity or TA, with an CTX-21 Alka+ alkalinity regulator, and total hardness or TH with a CTX-22 Calc+ hardness regulator, disinfection (with a wide variety of CTX products that include the three essential disinfectant alternatives: chlorine, bromine, and active oxygen), algicides, to prevent algae appearing, such as TX 500 Algastop and CTX 530C Algastop Ultra Power concentrate and flocculants to keep water clear by helping to remove hose particles that dirty the water and which cannot be absorbed by the filter: CTX Natural Clarifier, CTX-41, CTX-39 Pool Gel, etc. 

 

CTX Solutions Range: a product range designed to resolve any kind of problem which may arise, even if we have correctly maintained the pool. There are also products for those wanting to add extra care into their pool. For example, CTX shock disinfectants such as ClorShock to recover any damaged water, CTX Destructor de Algas to remove any algae from the swimming pool, etc. 

 

Winter Products Range: a collection of winter care products to preserve and care for the water over the winter (pool wintering). During this season, we do not recommend emptying the pool unless there is a risk of frosts (which can crack the pool). The CTX WinterStar winter care product is one of those products from our catalogue which is ideal for wintering. 

 

Cleaning Product Range to ensure the best possible maintenance of all of the pool's elements and to make sure it is operating as it should. Our catalogue includes a range of special products such as the CTX-606 Limpiador Inox to clean stainless steel surface, or CTX 56 Netoline, to clean floating equipment. 

 
We can help you to choose the chemical products for pools that are best adapted to your specific needs. You should also consider that products can be specific for different types of swimming pools, such as inground pools, liner or polyester pools and salt electrolysis pools. There are also different chemical products for above ground pools. 
Show more
Show less