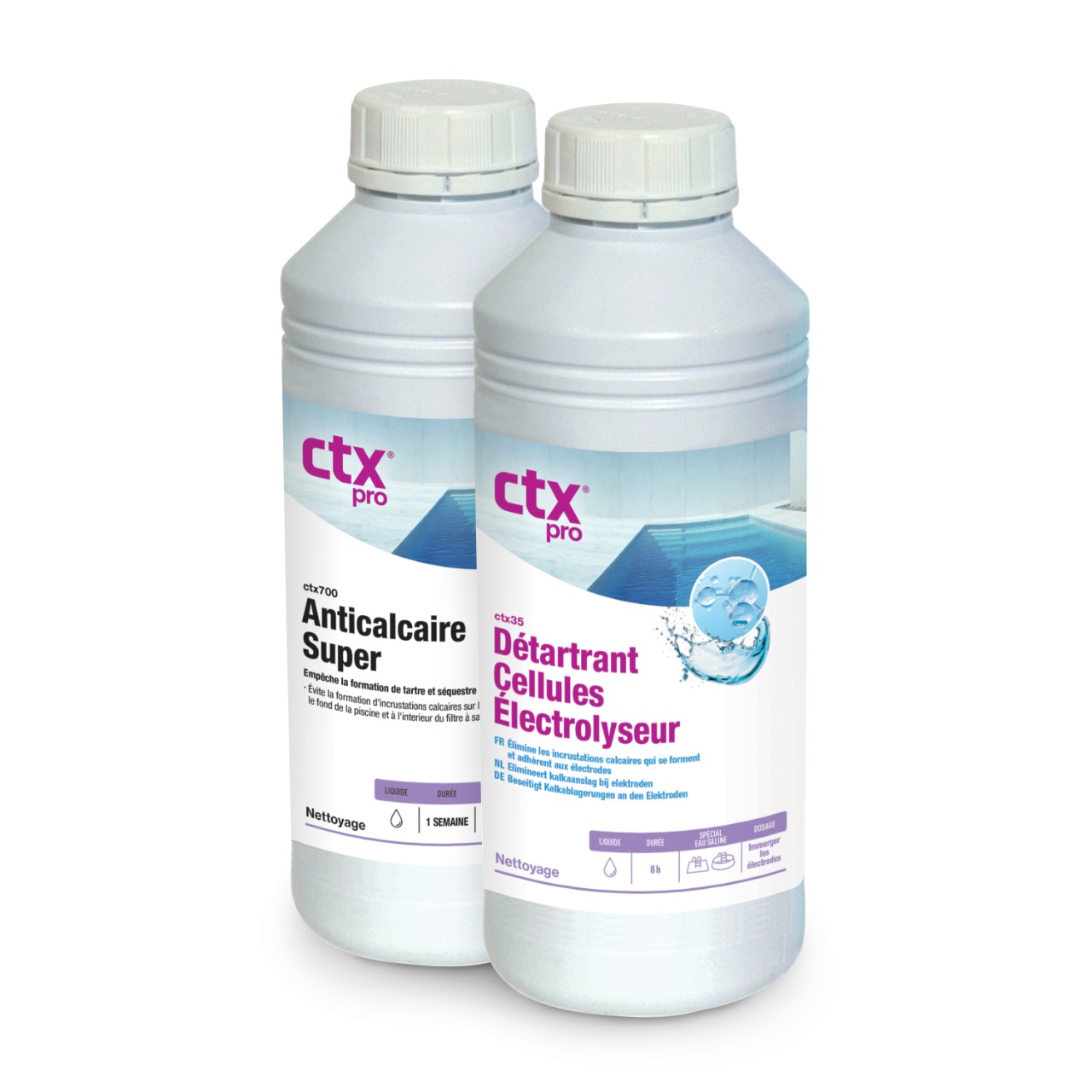 A descaler product is a component that is especially designed to prevent and remove limescale and iron scale which can build up in a swimming pool. 
The CTX descaler products prevent water from deteriorating and limescale from forming on the surface line of the water. These, as well as other reasons, are why it is essential to first balance out the water when maintaining it. 
There are three essential values when it comes to balancing water: 
pH. If the pH levels are not right, this can have a negative effect on the disinfectant products, and even cause metals to corrode, limescale to build up, or irritate the swimmer's eyes or skin. To avoid these problems, there are several products available at CTX such as pH Minus, pH Plus solids, and pH Minus liquid. 

 
TA or Total Alkalinity, this value refers to the level of carbonates and bicarbonates in the water. It improves the pH balance and, if too low, can cause this to fluctuate excessively. To prevent these issues from occurring, we have alkalinity enhancers such as CTX-21. 

 
Finally, TH or Total Hardness is the value that measures how much calcium and magnesium is in the water and establishes how hard it is, it also tells us how much lime there is in the water. In the CTX catalogue there are products to help balance out the TH, as a low TH can lead to soft water, meaning it is more aggressive and can cause the pool equipment to corrode. On the other hand, high TH can lead to hard water which leads to limescale build up. For these specific cases, our catalogue has a range of pool descalers.

 
We have a wide range of pool descalers available, based on your immediate needs, and we can also advise you on how to get a perfectly balanced pool and on how to remove limescale.
In the CTX catalogue, there are products such as:
CTX-53 descaler detergent This is a descaler and cleaner especially designed for fibre/polyester pools. This descaler product removes limescale, organic waste and sediment which is stuck to the sides of those pools built using these materials. 

 
CTX-600. This pool descaler product is a liquid product that is ideal for  inground pools. It prevents and removes limescale and stops filters from blocking up as well as helping to fight against  the corrosion of any metal components in the filter and circulation systems. 

 
CTX-700. As part of the pool descaling process, our products also help to remove any stains caused by metal parts. This descaler fully covers metals, prevents cloudy water, and prevents any limescale or metallic stains. 
It also prevents limescale building up on the bottom of the pool, the steps, or the walls of the pool. Additionally, it helps prevent stains from forming due to there being iron in the water, it keeps essential equipment clean, such as heat exchangers, water circulation circuits, pumps, and also descales the filters. It is also a non-foaming product, meaning it helps to keep the water clear and shimmering.
CTX-391 Multi-action. This descaler product is available in 250g tablets and is especially designed for hard water or those pools with limescale problems. It also has additional actions is disinfects and removes all kinds of microorganisms (disinfectant), it prevents algae from forming (algicide), and keeps the water clear and transparent (flocculant). It is a four in one product.
Show more
Show less
Tips and Related Resources