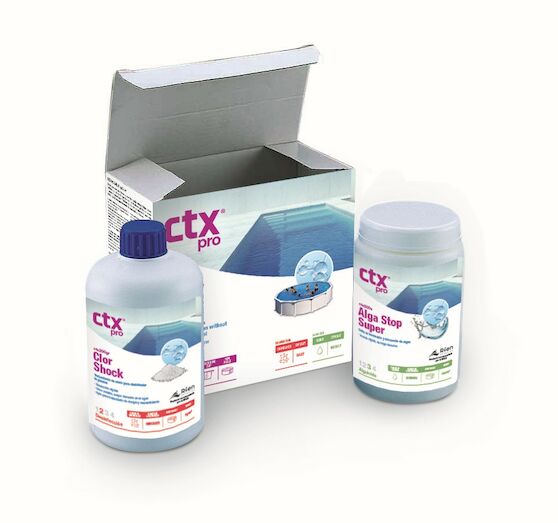 CTX-205 Baby pool
Where to buy
BABY POOL contains two products:
- CTX-200/GR GRANULATED DICHLORIDE Granular compound by means of which bacteria, viruses, fungi and organic matter present in the water are quickly eliminated.
- CTX-500/S ANTIALGAS CONCENTRATE Fast-acting algaecide compound for the prevention of algae in water.
| CODE | Description |
| --- | --- |
| 03176 | CTX-205 Baby pool |
Show less
INSTRUCTION FOR USE
Always adjust the pH before adding chlorine to the water to make it as effective as possible.
Spread the dose of product evenly over the pool surface. The addition of the product should preferably be done at dusk and without the presence of bathers in the pool water.
The free residual chlorine should always be between 0.5-2mg/l, a value that can be easily measured using a chlorine and pH analyzer kit. This control should be carried out at least twice a day.
DOSAGE
Initial Treatment (pH adjusted):
1) Add 15 grs. (*) of CTX-200/GR for each m3 of water.
2) Add a dose of 10ml of CTX-500/S for each m3 of water.

Maintenance Treatment (With the pH of the water adjusted):
1) Add daily 1 to 3 grs. (*) of CTX-200/GR ClorShock per m3 of water daily.
2) Add once a week 2.5ml of CTX-500/S AlgaStop for each m3 of water.
(* 1gr or 1ml is equivalent to approximately 1 teaspoon).

These doses are the ones suggested and can be modified according to the own characteristics of
every swimming pool, climate, etc.
Show less